We hear from many people, health is everything and even there is also a famous quote "health is wealth" which shows the importance of health in our life. Some people say, to perform daily tasks, you need to be healthy. Now, Question comes into the mind how can we become healthy. There are many factors that become you a healthy. Balance Diet is one of them. The second question after hearing this arise what is a balanced diet and how to can we get this??? Don't worry we are here to explain everything about a balanced diet.
What is a Balanced diet??
If we break down a balanced diet then we come to know two things Balanced and diet. Diet is what we consume in a single day and get energy. If we add the word balanced to the diet then it becomes the diet which gives you all those nutrients that your body needs to function properly.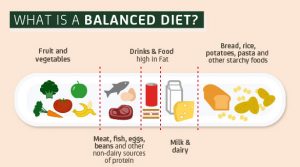 We can't get all the essential nutrients from a single diet except breast milk and also the proportion of different nutrients varies from food to food. Therefore, it is necessary to add a different variety of foods in your diet to get benefit from all the nutrients to keep your body healthy and in other words, you need a balanced diet.